---
Late Summer Concert
Sat, 16 Sep 2023
What a lovely time we had singing to raise funds for Action for Children and Christian Aid. We raised £470.60 in total (equally divided bteween the two charities).
---
Monday Night is Music Night
Mon, 19 Jun 2023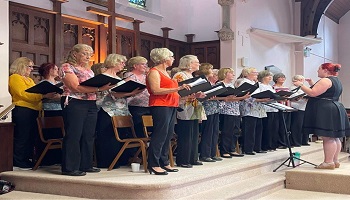 Well, it wasn't as hot as last year, but was still a warm evening for our performance as part of the "Monday Night is Music Night" series of concerts at Sutton on Sea Methodist Church.
The choir had a wonderful time and hopefully the audience enjoyed it too!
We started on a high (yes, that was a high Bb from the sopranos) with Bohemian Rhapsody and then lulled the audience into a false sense of security with a selection of ballads. They were rudely awakened with our rendition of You Can't Stop the Beat from Hairspray.
Roll on next year!
---
Christmas Concert
Sat, 10 Dec 2022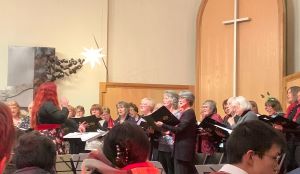 It was a cold evening and we needed all our extra layers, but we warmed the room up with our enthusiastic singing! We even let the audience join in with some carols so that they could get warm!
Thank you to Renjay and Renyi Chong for their beautiful playing and to Evelyn Green for the lovely solos. It was uplifting to make music with such talented youth.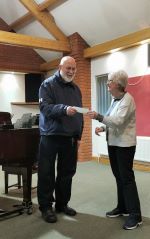 Judith has presented a cheque for £450 to Patrick Purves, the chair of the charity Louth and District Help for Homeless https://www.ldhh.org.uk/.

We are pleased that we were able to help this charity with half of our takings from our Christmas concert.
---
Monday Night is Music Night
Mon, 18 Jul 2022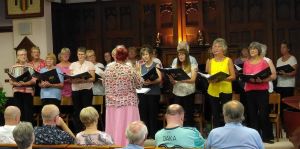 It was a hot and barmy evening for our first performance with our new musical director, Julie Medler, and we raised the temperature even more with out enthusiastic performance!

We had such fun and the audience seemed to enjoy it too! Thank you all for supporting us in th heat!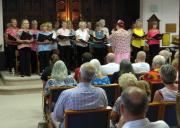 View photos
---
Christmas Tree Festival, Louth
Sun, 5 Dec 2021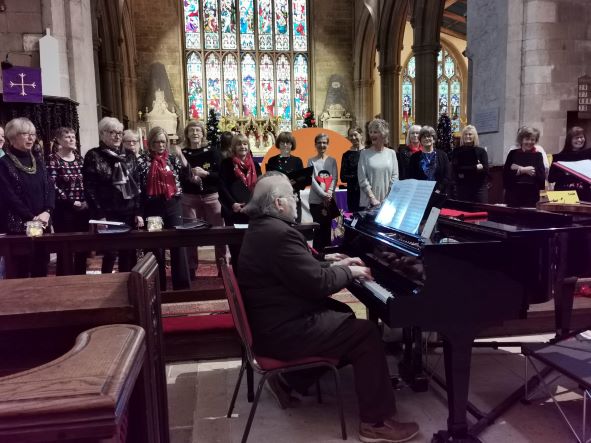 The Meridian Singers were very happy to be performing again, under the direction of Gill Parker, at the Christmas Tree Festival in St James', Louth.
---
Christmas Performance
Sat, 14 Dec 2019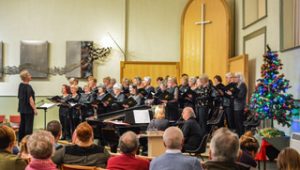 Our Christmas performance was once again delivered to an enthusiastic, appreciative audience, who applauded and interacted with the Choir, making this a truly memorable pre-Christmas evening of music and song.

The Meridian Singers were once again thrilled to have Josh and Jo, a very talented local duo, on piano and electric cello, as their guests at the Performance.
Through the monies raised at the Christmas Cracker Performance, a cheque for £400 was presented to Major Rudi Bruinewoud, on behalf of the Salvation Army, in support of the magnificent work they do within our local community. The Salvation Army spread the joy of Christmas up and down the country during this festive season.
---
Never Mind the Bullocks
Wed, 19 Jun 2019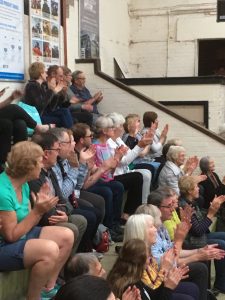 What an exciting, unusual, 'euphoric' setting in which to perform two of our hand-clapping, foot-tapping, always popular, audience participating, songs! We were invited to perform in a multi talented, very varied program of entertainment as part of Louth's Zero Degrees mini festival. It was held in the arena of Louth's Livestock cattle market. The roof rocked, the walls vibrated, the audience cheered and clapped, choir members gave a magnificent performance full of energy and enthusiasm.
We enjoyed watching some of the other performers too as we waited for our turn to 'wow' the audience!!
---
Monday Night is Music Night - Sutton on Sea
Mon, 10 Jun 2019
It was a cold, wet, windy evening at the 'seaside' --- BUT --- what a musically exhilarating evening the Meridian Singers presented - full of energy, enthusiasm and passion. It is always a delight for them to perform in front of such a warm, welcoming and appreciative audience, who, once again, delighted in all the songs sung that evening. Such wonderful audience participation during 'Sister Act'
One comment was, "It just looks like you are having so much fun but there is a seriousness in everything you sing." The depth of feeling in 'Deep River', the nostalgia of 'Lake Isle of Innesfree', the pure power of 'Libertango', as for 'Goldfinger' ------ well, the roof was nearly raised!!!
---
May Performance
Sat, 11 May 2019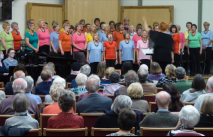 "Everyone looked amazing and were confident from the very beginning to the very end. Outstanding!"
The Meridian Singers' Performance on Saturday evening at the Nichol Hill Methodist Church, elicited many such comments, as the choir performed a varied, exciting and, at times, challenging program of songs and medleys. Astor Piazzolla's 'Libertango' produced an energy that was infectious and which set the scene for many such moments throughout the evening. The Sister Act Medley' and Bond's 'Goldfinger' matched this energy and there was some very enthusiastic audience participation at times, especially during the encore!
The Meridian Singers were superbly supported by the local duo, Josh and Jo, who musically enhanced the evening with their unique and brilliant playing of the piano and electric cello - 'Highway to Hell' and 'Diamonds Are Forever' were but a couple of their extensive repertoire.
This Performance was in support of two very worthwhile Charities; one local, 'Louth Churches For Refugees' and the other far more reaching, 'Christian Aid'.