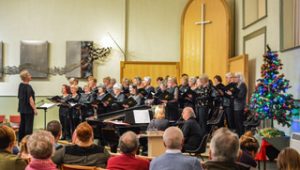 Our Christmas performance was once again delivered to an enthusiastic, appreciative audience, who applauded and interacted with the Choir, making this a truly memorable pre-Christmas evening of music and song.

The Meridian Singers were once again thrilled to have Josh and Jo, a very talented local duo, on piano and electric cello, as their guests at the Performance.
Through the monies raised at the Christmas Cracker Performance, a cheque for £400 was presented to Major Rudi Bruinewoud, on behalf of the Salvation Army, in support of the magnificent work they do within our local community. The Salvation Army spread the joy of Christmas up and down the country during this festive season.